Laparoscopic Varicocelectomy
A varicocele is a common condition that is characterized by enlargement of certain veins in the scrotum. It usually affects the left testicle (80 – 90%), but it can also appear on the right testicle or even in both of them. 1
Usually, a varicocele causes no symptoms. It affects over 15 – 20% of all males and is heavily associated with fertility problems. This condition is known to decrease sperm quality and may cause infertility and other problems related to testicular function.1 Some patients (less than 10%) also complain about mild testicular pain. 
Considering the relatively high incidence of this condition, it is important to mention that there are many treatment options available. There are effective non-surgical and surgical options that have been proven effective for the treatment of infertility and pain when compared to conservative approaches.2,3  
Finding the best approach to treatment is a matter of discussing it with our varicocele specialist or your urologist to find the best option for you.
What is Laparoscopic Varicocelectomy
This is a surgical operation using a camera to find and close the varicocele. The surgeon makes several incisions on the abdomen to place a camera and small instruments to perform the operation. Once the abdomen is inflated with gas, the surgeon can visualize inside the abdomen to try and locate the abnormal veins. This is done under general anesthesia and usually an outpatient procedure.
The main goal of this procedure is to locate and ligate (tie) the affected veins to restore proper blood flow to the scrotum. All of this, without damaging other important structures like arteries and components of the ejaculatory complex. 
There are different variations of this technique depending on the approach of how the tissues are dissected in the pelvis. It can also be guided by ultrasound for better results and fewer complications. 
Additionally, it can be further divided into artery-preserving and artery-ligating procedures depending on whether the testicular artery is tied off or not. Some studies have found that the chance of recurrence is lower when these arteries are ligated.4 The downside of artery ligation is that it can lead to infertility and shrinkage of the testicle. This is not a good option for someone wanting to preserve fertility.
Risks of Laparoscopic Varicocelectomy
Since this is the most invasive of the treatment options, it carries a higher risk of complication.  The most common complications associated with this surgery are recurrence, fluid build-up in the scrotum (known as a hydrocele), and damage to the vessels and structures in the area. 
The recurrence rate for this procedure is estimated to be around 3 – 15%. The risk for a hydrocele is between 7 – 20%. These numbers may vary depending on the surgical approach and whether the lymphatics are ligated or not. 8, 9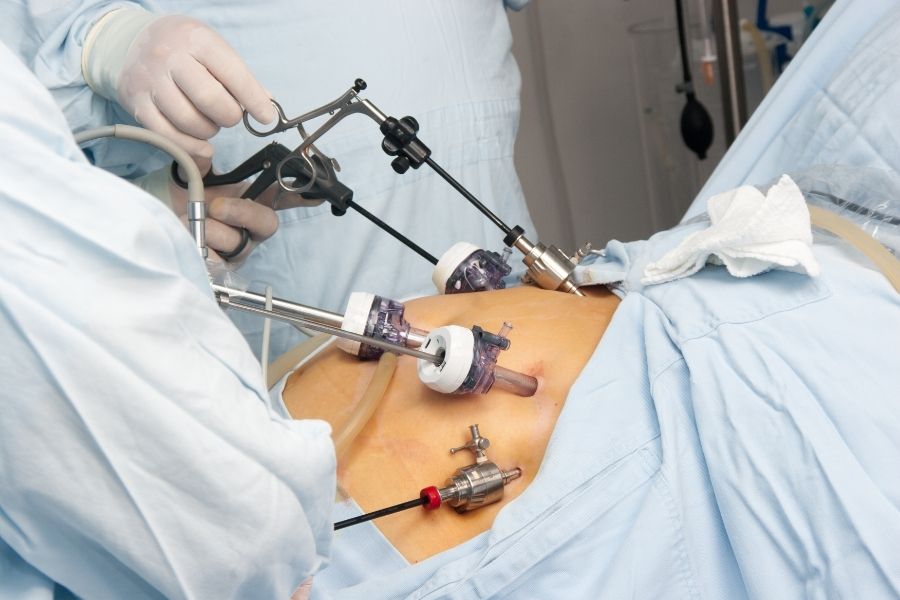 The exact risk of damaging the testicular artery is hard to estimate, but it can be associated with the surgeon's experience and dexterity. Even though testicular atrophy is very rare after arterial ligation, it has been described. 
Other complications like nerve damage, intestinal or organ injury, and even peritonitis (infection/inflammation of the abdomen) have been reported. Nerve injury would cause scrotal numbness. Additional complications due to general anesthesia must be considered as well.8   
The risk of wound infections is low but has been described.
Best Candidate for Laparoscopic Varicocelectomy
Many guidelines have been published to determine who needs a surgical procedure to treat a varicocele. Some of the common factors include:5 
– Testicular pain or discomfort (after ruling out other possible conditions) 
– Abnormal semen parameters 
– Clinically palpable varicocele 
– Infertility 
– Symptoms associated with abnormal testicular development (especially in adolescents) 
– A desire for future fertility in males that are not currently trying to conceive 
While this is major surgery, this maybe a good option for someone who also needs treatment of an inguinal hernia during the same surgery.6
Please note that although we strive to protect and secure our online communications, and use the security measures detailed in our Privacy Policy to protect your information, no data transmitted over the Internet can be guaranteed to be completely secure and no security measures are perfect or impenetrable. If you would like to transmit sensitive information to us, please contact us, without including the sensitive information, to arrange a more secure means of communication. By submitting this form you consent to receive text messages from CVI at the number provided. Msg & data rates may apply. Msg frequency varies. Unsubscribe at any time by replying STOP.
Laparoscopic Varicocelectomy Recovery
Surgery usually takes less than two hours. After leaving the OR, the patient is put into observation for a couple of hours until the anesthesia wears off. After that, the patient is usually discharged home unless there is a complication requiring hospital stay.     
After surgery, it is normal to experience pain or discomfort at the surgical incisions, as the incisions pierce through the abdominal muscles. This pain may require narcotics until the muscles and tissues heal. Bruising and swelling might also appear in the groin area and on the incision sites, which may take several weeks to resolve.  
Most patients are allowed to return to work after 3 to 5 days. Full recovery may take 2-4 weeks and sexual activity can be resumed in 1 to 2 weeks; open surgical recovery can take 3 to 6 weeks. A supportive jock strap may be recommended.
Laparoscopic Varicocelectomy Results
Of all of the available treatment options, laparoscopic surgical varicocelectomy has the lowest success rate of just over 70% in resolution of pain and improvement in fertility.2, 
Surgery vs Non-Surgical Varicocele Embolization
Laparoscopic varicocelectomy is still surgery involving general anesthesia, with risks of bleeding, infection, tissue or vascular damage. Is non-surgical embolization treatment a better option? Embolization does not require creating a major surgical incision on your abdomen or groin, or dissection of the tissues. Since there is no cutting, there is no risk of damaging the testicular artery, nerve or lymphatics. There are no major incisions or sutures. Lastly, varicocele embolization has a 90% success rate.
What is Varicocele Embolization?
Varicocele can be treated by an embolization procedure or surgery. Embolization is a non-surgical, outpatient, minimally invasive technique that uses x-ray guidance to place tiny coils and embolic fluid in the abnormal blood vessels causing them to close down.
Am I a candidate for Varicocele Embolization?
Treatment is offered for males who have:
Fertility problems (problems fathering a child)
Pain
Boys with a smaller testicle; at a higher risk for fertility problems when they are older
How Is Non-Surgical Embolization Performed?
You will receive twilight sedation to help you relax 
Our specialist numbs the skin on the neck or upper thigh
A tiny tube called a sheath is placed through a pinhole incision
Foam and small coil plugs placed into the abnormal vein 
The tube is removed
Band-Aid is applied 
Request a consultation to meet with our varicocele specialist who will review your imaging, labs and history to determine if you are candidate for the procedure, and the outcomes you can expect. Each person is an individual and should discuss the potential risks and benefits of embolization and other treatments with our doctor to decide which option is best.
Consultations are available via an online video telehealth platform or in person at one of the offices in Los Angeles, Orange County or San Diego, when available.  Why should you choose us? Read here
1.)  (2021, June 3). Varicocele. Practice Essentials, History of the Procedure, Problem. 
2.)  Medscape Drugs & Diseases – Comprehensive peer-reviewed medical condition, surgery, and clinical procedure articles with symptoms, diagnosis, staging, treatment, drugs and medications, prognosis, follow-up, and pictures. (n.d.). 
3.)  Binsaleh, S., & Lo, K. C. (2007, September). Varicocelectomy: microsurgical inguinal varicocelectomy is the treatment of choice. Canadian Urological Association journal = Journal de l'Association des urologues du Canada.  
4.)  Guo LQ; Zhang XL; Liu YQ; Sun WD; Zhao ST; Yuan MZ; (n.d.). The application of laparoscopic Doppler ultrasound during laparoscopic varicocelectomy in infertile men. Asian journal of andrology. 
5.)  Wesley M White, M. D. (2021, June 3). Varicocele. Practice Essentials, History of the Procedure, Problem. 
6.)  MA;, B. G. A. Z. A. D. A. R. E.-G. (n.d.). Laparoscopic versus open high ligation of the testicular veins for the treatment of varicocele. JSLS: Journal of the Society of Laparoendoscopic Surgeons. 
7.)  Kachrilas, S., Popov, E., Bourdoumis, A., Akhter, W., El Howairis, M., Aghaways, I., Masood, J., & Buchholz, N. (2014). Laparoscopic varicocelectomy in the management of chronic scrotal pain. JSLS: Journal of the Society of Laparoendoscopic Surgeons.
8.)  Chan, P. (2011, January). Management options of varicoceles. Indian journal of urology: IJU: journal of the Urological Society of India.  
9.)  Owen, R. C., McCormick, B. J., Figler, B. D., & Coward, R. M. (2017, May). A review of varicocele repair for pain. Translational andrology and urology.
The above information explains what is involved and the possible risks. It is not meant to be a substitute for informed discussion between you and your doctor, but can act as a starting point for such a discussion.